Missä:
Oodi Helsinki Central Library
Milloin:
16.9.2019 09:00 – 16.9.2019 12:30
Oodi Helsinki Public Library, Maijansali hall, Töölönlahdenkatu 4, Helsinki
We are living in a time which is seeing civil mobilization with the aim of tackling climate change – the Student Climate Strikes and Extinction Rebellion are strong examples. We also see a wide acceptance of the need for a just transition which protect people most likely to be affected by this transition. Our political leaders have signed up to some ambitious regional and global frameworks like the European Pillar of Social Rights and the Sustainable Development Goals – and our European Institutions are about to undergo great change.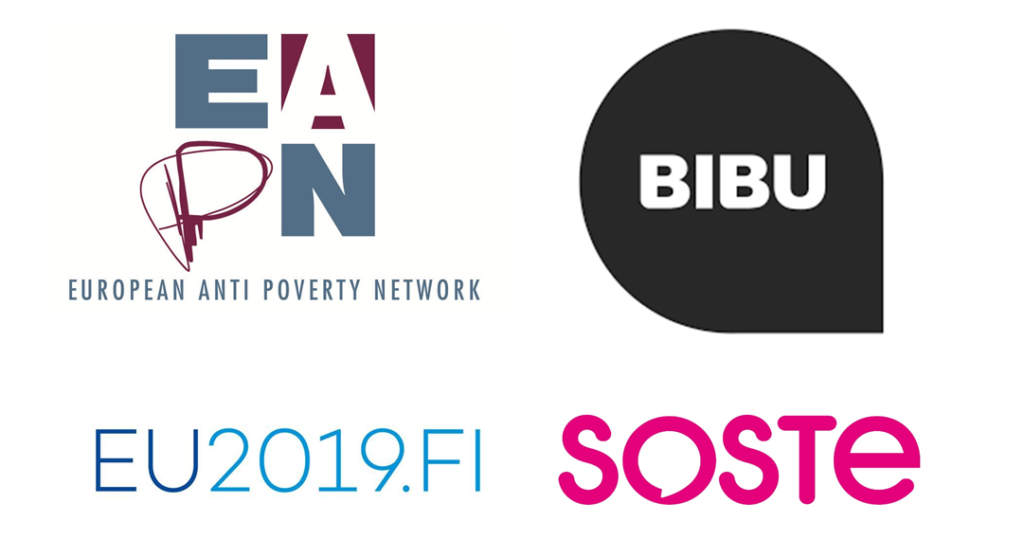 With this in mind, this seminar will provide a space for reflection on the following questions: How can the wide network of anti-poverty organisations and activists best use its power to ensure that our 'new' institutions, our new politicians recognize the need to reprogramme our systems which maintain over 100 million people at risk of poverty, and act accordingly with the clear aim of eradicating poverty?
Organisers: European Anti-Poverty Network, Finnish Anti-Poverty Network EAPN-Fin, BIBU – Tackling Biases and Bubbles in Participation -research project and SOSTE Finnish Federation for Social Affairs and Health.
Draft program
09:00
Eleni Karaoli, EAPN Vice President

Saila Ruuth, State Secretary, Ministry of Social Affairs and Health
09:15
What political leaders need to do to eradicate poverty (video)
Philip Alston, UN Special Envoy on Poverty and Human Rights

How inequalities in political engagement make democracy vulnerable?
Hanna Wass, Professor, Faculty of Social Sciences, University of Helsinki
Building power online and offline to create political and social change
Laura Sullivan, Executive Director, WeMove
10:15
Ismo Gröönroos-Saikkala, Economic Adviser, European Commission Representation in Finland
Saila Ruuth, State Secretary, Ministry of Social Affairs and Health
11:15
Chair: Leo Williams, EAPN Director
– Vera Hinterdorfer, EAPN
– Zahra Karimy, host, activist and student in Kulosaari Upper Secondary School
– Jouni Kylmälä, EAPN-Fin
– Kélig Puyet, Social Platform
12:15
Vertti Kiukas, Secretary General, SOSTE Finnish Federation for Social Affairs and Health
More information